Blue Force Tracking for Municipalities
Command, Control, and Communications for Field Emergency and Recovery Management
OnScene Commander
OnScene Commander is a military-grade blue force tracker built by defense contractor PLEXSYS Interface Products for municipal and state use. Blue force tracking uses video and GPS data to provide commanders with communication and location information on their human and aviation resources. OnScene Commander is considered by emergency responders and firefighting officials alike as a leap forward in response staging, resource management (from personnel to bulldozers), and real-time and post-mortem event analysis.
It's useful to think of OnScene Commander as a tool for building and maintaining situational awareness and a common operating plan.
Seated next to one or more UAS pilots in an internet-connected mobile command center, the OnScene Commander operator combines mapping data with video images being collected by drones or other aircraft. Emergency personnel in the field carry satellite transponders that signal location and exchange text messages, even signalling "man down" when the transponder stops moving. Combined with mapping data, a commander can instantly alert those in the field if a fire shifts direction, or guide them to movement spotted under rubble. Video and mapping data is combined into a single screen and archived, accessible to those in other command centers at the local, regional, or state level.
An optional radar and IFF interface with remote radio provides a radar and IFF/SIF "detect and avoid" interface with FAA and Joint Surveillance System radars and radio repeaters via a specialized internet connection.
Archived data can be reviewed after the fact, used in tactical evaluation and instruction for next time. In the military, blue force tracking is a multi-million dollar system. OnScene Commander is the first fully featured system available at prices a municipality or state can afford, and it can be completely integrated with existing systems.
Download our brochure or contact us for further information.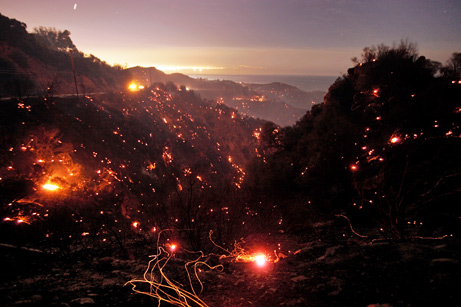 Can You Afford to Wait?
OnScene Commander is a military-grade solution built for civilian use. Does your municipality face natural disasters? Learn more about our affordable, effective solution to managing disaster fighting and recovery.
Find Out More